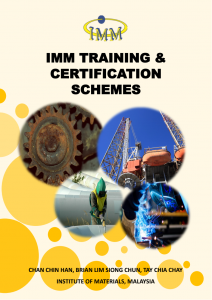 The Institute of Materials, Malaysia (IMM) is a non-profit professionals society that promotes honourable practice & professional ethics, encourage education in materials sciences, engineering & technology. Engineers, academicians, technicians, skilled workers and professionals are amongst its members exceeding 8,000. The objectives of IMM include the training and development of individuals and companies in Malaysia to attain professional recognition in various fields of materials science, technology and engineering. IMM administered by a council of 30 members with volunteers leading 25 materials task force and working committees, 5 regional chapters and supported by secretariat with full time staff.
Why IMM Training & Certification
IMM accredited courses, recognised in the oil and gas, shipbuilding and construction industries are endorsed by PETRONAS. Graduates of IMM Courses get supplementary knowledge in materials technology and engineering as well as are better placed for employment and enjoy higher remunerations usually. The courses and programmes are being organised by IMM authorised training bodies.
Click on the snippet of the booklet's front page to view and read the booklet. Full publication available for download (File size: 2.3 MB). Click Here