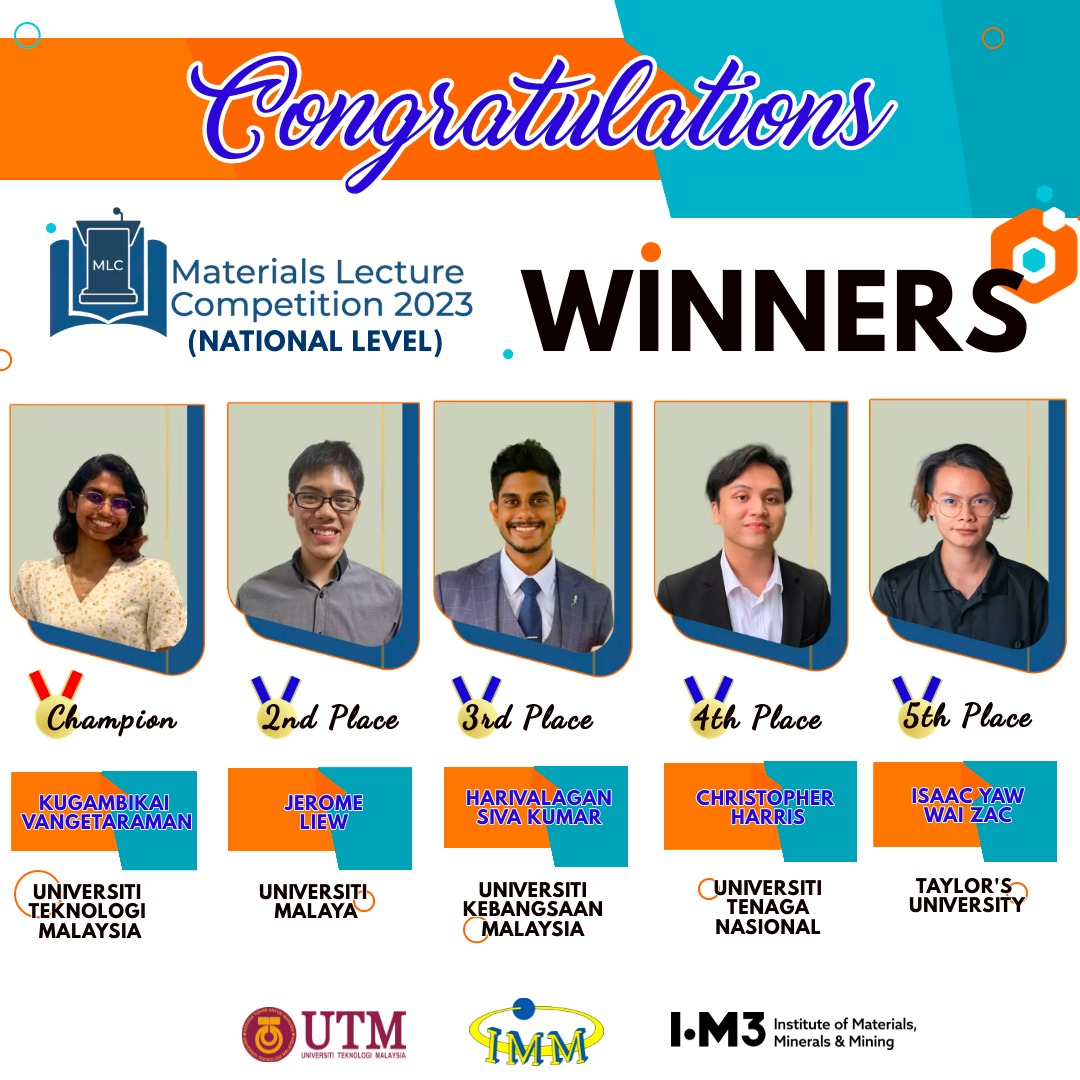 We are incredibly proud to announce the 𝐖𝐢𝐧𝐧𝐞𝐫𝐬 𝐨𝐟 𝐭𝐡𝐞 𝐍𝐚𝐭𝐢𝐨𝐧𝐚𝐥 𝐌𝐚𝐭𝐞𝐫𝐢𝐚𝐥𝐬 𝐋𝐞𝐜𝐭𝐮𝐫𝐞 𝐂𝐨𝐦𝐩𝐞𝐭𝐢𝐭𝐢𝐨𝐧 𝟐𝟎𝟐𝟑. The final round competition has been successfully organized on 28th August 2023 (Monday) by the School of Graduate Studies, Universiti Teknologi Malaysia in collaboration with Institute of Materials, Malaysia, IMM and Institute of Materials Minerals and Mining, IOM3-UK.
The list of winners are as follows:
🥇𝐂𝐇𝐀𝐌𝐏𝐈𝐎𝐍:
𝐊𝐮𝐠𝐚𝐦𝐛𝐢𝐤𝐚𝐢 𝐕𝐚𝐧𝐠𝐞𝐭𝐚𝐫𝐚𝐦𝐚𝐧 (𝐔𝐧𝐢𝐯𝐞𝐫𝐬𝐢𝐭𝐢 𝐓𝐞𝐤𝐧𝐨𝐥𝐨𝐠𝐢 𝐌𝐚𝐥𝐚𝐲𝐬𝐢𝐚)
🥈𝟐𝐍𝐃 𝐏𝐋𝐀𝐂𝐄:
𝐉𝐞𝐫𝐨𝐦𝐞 𝐋𝐢𝐞𝐰 (𝐔𝐧𝐢𝐯𝐞𝐫𝐬𝐢𝐭𝐢 𝐌𝐚𝐥𝐚𝐲𝐚)
🥉𝟑𝐑𝐃 𝐏𝐋𝐀𝐂𝐄:
𝐇𝐚𝐫𝐢𝐯𝐚𝐥𝐚𝐠𝐚𝐧 𝐒𝐢𝐯𝐚 𝐊𝐮𝐦𝐚𝐫 (𝐔𝐧𝐢𝐯𝐞𝐫𝐬𝐢𝐭𝐢 𝐊𝐞𝐛𝐚𝐧𝐠𝐬𝐚𝐚𝐧 𝐌𝐚𝐥𝐚𝐲𝐬𝐢𝐚)
🏅𝟒𝐓𝐇 𝐏𝐋𝐀𝐂𝐄:
𝐂𝐡𝐫𝐢𝐬𝐭𝐨𝐩𝐡𝐞𝐫 𝐇𝐚𝐫𝐫𝐢𝐬 (𝐔𝐧𝐢𝐯𝐞𝐫𝐬𝐢𝐭𝐢 𝐓𝐞𝐧𝐚𝐠𝐚 𝐍𝐚𝐬𝐢𝐨𝐧𝐚𝐥)
🏅𝟓𝐓𝐇 𝐏𝐋𝐀𝐂𝐄:
𝐈𝐬𝐚𝐚𝐜 𝐘𝐚𝐰 𝐖𝐚𝐢 𝐙𝐚𝐜 (𝐓𝐚𝐲𝐥𝐨𝐫'𝐬 𝐔𝐧𝐢𝐯𝐞𝐫𝐬𝐢𝐭𝐲)
Their ability to deliver their research concisely and effectively is truly commendable. Warmest congratulations on their achievement and we wish them even more success in the future!